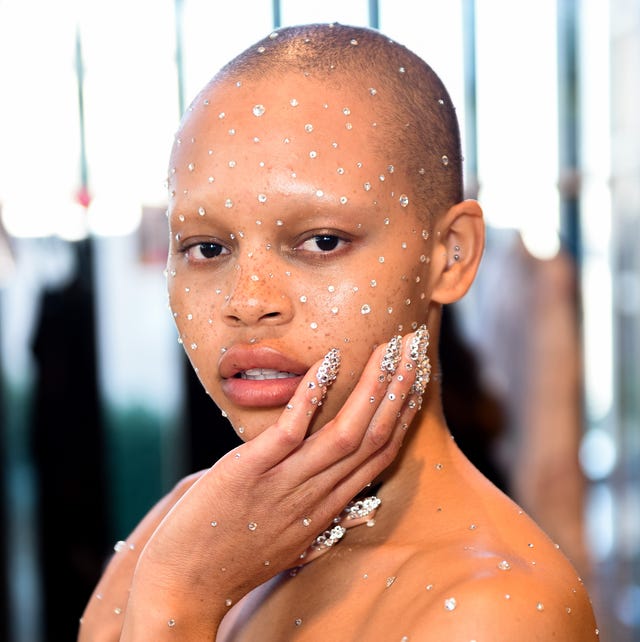 Presley Ann
Stop! Before you even think about picking at your pimples, consider the consequences. You know the cycle: a fresh pimple emerges, you pop it, it leaves a scar that you frequently pick at, and boom—now you have a dark spot. The more you repeat this cycle, the more damage you cause to your skin. In which case, you may need some of these.
"Acne scars are the result of inflammation from acne blemishes," says Alabama-based board-certified dermatologist, Dr. Corey L. Hartman. "Acne scarring may be rolling (superficial, longer depression in the skin), ice pick (very small but deep), atrophic (very superficial but very thin), or hypertrophic (thick scars raised above the skin)," adds NY-based board-certified derm, Dr. Elyse Love.
Now, I am not one to judge. I have picked my fair share of blemishes and have suffered the consequences. Actually, I'm still dealing with the consequences. So if you've gotten down and dirty with a zit or have just noticed post-acne dark spots, I am with you. Thankfully, ingredients like retinol, lactic acid, and kojic acid can help to brighten the area, while evening the texture of the skin to diminish the overall appearance of the pesky dark spots. Acne-fighting cleansers and fun LED devices can also help treat these areas. Scroll on for 24 of the best products for treating acne scars, according to dermatologists.
Advertisement – Continue Reading Below
1
Best Overall
Murad
InvisiScar Resurfacing Treatment
2
Best LED Device
Solawave
Advanced Skincare Wand with Red Light Therapy
3
Best For Body Scars
Topicals
Faded Brightening & Clearing Mist
4
Best At-Home Peel
Dr. Dennis Gross Skincare
Alpha Beta® Universal Daily Peel
5
Best Affordable Treatment
The Ordinary
Azelaic Acid Suspension 10%
6
Best Drugstore Treatment
Differin
Acne Treatment Gel
7
Best Peptide Serum
Bliss
Bright Idea Vitamin C + Tri-Peptide Serum
8
Best Preventative Cleanser
CeraVe
Acne Foaming Cream Cleanser
9
Best Invisible SPF
Supergoop!
Unseen Sunscreen
10
Best Pimple Patches
Starface
Hydro-Stars Starter Pack
11
Best Retinol
ZO Skin Health
Retinol Skin Brightener 1%
12
Best For All-Over Brightening
Hyper Skin
Brightening Dark Spot Vitamin C Serum
13
Best Clean Option
Ustawi
Niacinamide Dark Spot Corrector
14
Best Multi-Tasker
La Roche-Posay
Effaclar Adapalene Gel 0.1% Topical Retinoid Acne Treatment
15
Best Overnight Treatment
SkinBetter
AlphaRet Overnight Cream
16
Best On-The-Go Option
Nassif MD
Detox Pads Complexion Perfecting Pads
17
Best Clean Vitamin C Serum
Beautycounter
All Bright C Serum
18
Best Exfoliator
Clean & Clear
Acne Triple Clear Exfoliating Facial Scrub
19
Best for Acne-Prone Skin
SkinCeuticals
Silymarin CF
20
Best Collagen Booster
Glo Skin Beauty
Bio-Renew EGF Drops
21
Best At-Home Spa Treatment
Environ Skincare
Gold Roll-Cit
22
The Holy Grail Vitamin C
SkinCeuticals
C E Ferulic
23
Best Tinted SPF
CeraVe Hydrating Sunscreen Face Sheer Tint SPF 30
24
Best For All Skin Types
Visha
Advanced Correcting Serum
25
Best For A Deep Clean
SkinCeuticals
Purifying Cleanser
How can I remove acne scars?
Topical treatments are great temporary fixes, but Dr. Elyse Love advises seeing a professional to begin your journey of permanently removing acne scars. "Treatment of rolling, ice pick, and atrophic scars require procedures that increase collagen production such as CO2 laser, fraxel, and/or microneedling with radiofrequency," she explains. Meanwhile, hypertrophic scars require more attention: "Hypertrophic scars are classically treated with injections to soften the scars but laser treatments such as PDL, excel v, laser genesis, and CO2 laser can also be helpful."
Can acne scars be permanently removed?
"The results of scar treatments are permanent (pending the acne is under control)," Love says. It will also take several treatments to bring you closer to the clear, even-toned skin of your dreams. Not to be confused with hyperpigmentation, acne scars are the "textural changes that develop as a result of severely inflamed acne nodules and cysts that occur deep in the dermis," says Dr. Nassif.
What are the best products for acne scars?
When shopping for topical products to help treat your scars, Nassif says to check ingredient labels for exfoliating agents. "Look for a product with good concentrations of AHAs and BHAs like glycolic, salicylic, and lactic acid. A good retinol product would be a close second, to help boost skin cell turnover and collagen to help fill in the scarring," he explains. Just be sure to always follow up with sunscreen.
26
Why trust ELLE Beauty?
Nerisha Penrose is the Beauty Commerce Editor at ELLE.com. Since joining ELLE.com in 2017, she has interviewed countless skincare professionals and has personally tested the latest and greatest products across makeup, skincare, and hair care.
Advertisement – Continue Reading Below