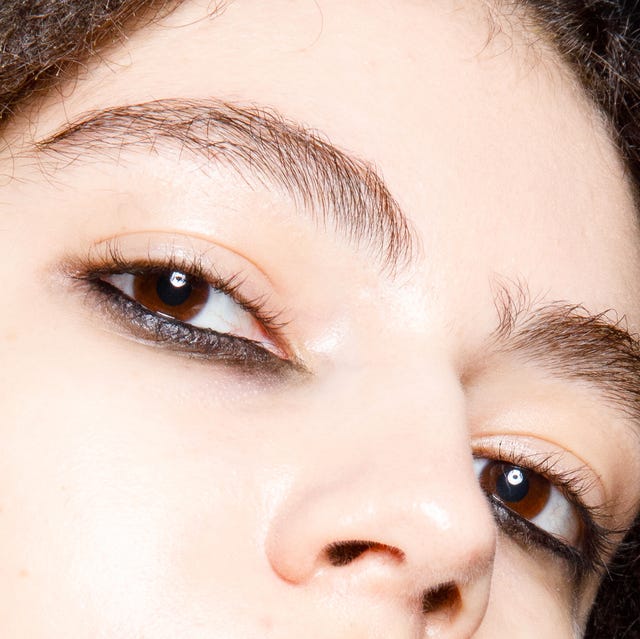 Rosdiana Ciaravolo
As the owner of recently-bleached brows, I can tell you one thing for sure: they make a huge difference to your face. Eyes are the windows to the soul but let's not pretend that eyebrows aren't just as important. The perfect brow (ahem, Zendaya) isn't birthed overnight; it takes a lot of training, threading, waxing, and an arduous search for the perfect brow gel. Maybe you use a brow pencil to add depth or religiously apply a brow-growth serum. Either way, topping it off with a brow gel is essential. "Eyebrow gel is the easiest way to tame brows and make them look fuller and groomed," says makeup artist Tasha Brown, who works with Yara Shahidi, Logan Browning, and Maggie Betts.
"I use clear brows gel and brush brows upwards and out for basic grooming. My go-to technique is to use a brow powder and create small, hair-like strokes in the direction the hair grows in the brows. Then I finish with a generous coating of tinted brow gel for a clean, believable effect." Like many beauty lovers, Betts's favorite gel is none other than the fan-favorite Glossier Brow Boy. Ahead, Boy Brow and 14 other gels will keep your brow game strong.
Advertisement – Continue Reading Below
1
Best Overall
Glossier
Boy Brow
2
Best For Unruly Brows
Anastasia Beverly Hills
Brow Gel
3
Best Waterproof Brow Gel
Wunder2
Long Lasting Eyebrow Gel for Waterproof Eyebrow Makeup
4
Best For Sparse Brows
Ardell
Brow & Lash Growth Accelerator Treatment
5
Best Clear Brow Gel
Benefit Cosmetics
24-HR Brow Setter Shaping & Setting Gel
6
Best For A Budget
NYX Professional Makeup
The Brow Glue
7
Best For Bushy Brows
Makeup by Mario
Master Hold Brow Gel
8
Best For Thin Brows
e.l.f. Cosmetics
Wow Brow Gel
9
Best Soap Brow Alternative
Refy
Brow Sculpt Shape and Hold Gel with Lamination Effect
10
Best For Brow Growth
Eyeko
Brow Gel
11
Best For Fine Brows
Kosas
Air Brow Tinted Clean Volumizing Eyebrow Gel
12
Best For Thin Brows
UOMA Beauty
BROW-FRO Blow Out Gel
13
Best For Bold Brows
MILK MAKEUP
KUSH Fiber Eyebrow Gel
14
Best Clean Brow Gel
Gen See
Arch Support Brow Powder Gel
15
Best Soft Brow Gel
Joey Healy
Brow Structure Clear Set
Joey Healy is a brow expert, brand founder, and owner of Joey Healy Eyebrow Studio.
Jared Bailey is the Benefit Cosmetics Global Brow Expert.
Tasha Brown is a celebrity makeup artist who's clients include Alicia Keys and Whitney Peak.
"Brow gels are the simplest way to style, redirect, fill, or tame brow hairs," says Bailey. "It really depends on the nature of your brows, you might use it to comb it up in a pleasing, fluffy manner. You might use it to keep your shape and place all day, or you might use them to really tame stubborn hairs that tend to go crazy on you," adds Healy.
Why are people using soap as brow gel?
"People love using this hack because it's an inexpensive way to get a stronghold and help keep your brows in place all day, especially if you have thick, unruly brow hairs," says Bailey. "It's actually considered an old-Hollywood secret that has been used by makeup artists on set, in editorial beauty and fashion shoots, and even in drag makeup for decades." Soap brows are a great way to cheat laminated brows. "It's a highly stylized look, but to me, it's not a no-makeup makeup look," says Healy. "It looks like the brows have been manipulated in such a way. There are a lot of expensive products on the market that are soap brow-like products, but good old-fashioned soap, specifically a clear bar of Glycerine soap, will do the job. I always recommend Pears, it's just a very simple Glycerine soap that you see commonly around."
What is the best eyebrow gel?
"Finding the right brow gel for you can be really personal depending on how you want it to perform," says Bailey. "I love brow gels that don't get crispy or crunchy and ones that don't leave a residue," says Healy. "Sometimes brow gels leave this flakiness behind and I prefer when they leave a pliable, flexible hold. For me, that's a light to medium weight hold. If you need something a little bit more intense, you can opt for a mustache wax, and I think that's even better than using a bar of soap. It's also inexpensive, but it's made for hair and it does give a bit of more substantial hold. But, most people are good with a basic, medium brow gel, and people don't always know that you can in fact layer your brow gels."
What are the different types of brow gels?
"These days, there are so many different types," says Healy. For Bailey, answering these questions is key to finding your perfect brow gel. "Do you want a strong hold or a light hold? Do you want a gel with a tint or clear? Fiber enhanced gel for volume or something more flat? Quick dry time or something more workable?" The two most common types of brow gels are Brow Setting Gels and Fiber Brow gels. A setting brow keeps hairs in place, while a fiber gel can help the brow look fluffier and more voluminous.
16
Why trust ELLE Beauty?
This article was written by Beauty E-Commerce Writer (and recent bleached eyebrow convert) Tatjana Freund. Freund has interviewed countless leading makeup artists, and enjoys exploring new beauty trends.
Advertisement – Continue Reading Below